Philippe Rahm
Constructed Atmosphere
"In my work I always try to use a scientific process to understand new things, to develop a new idea, a new design, a new language; not to arrive at a single solution, but to create a diversity of solutions."
The Swiss architect Philippe Rahm is an international pioneer in exploring the field of architecture and its physiological effects, especially with respect to their interdependencies with climatological conditions. On the basis of complex analysis and calculations of the geographical, meteorological, and physical circumstances in situ, Rahm creates astonishing buildings and spaces, which follow the atmospheric conditions of their environments.
For his ongoing redesign of the 70-hectare Jade Eco Park in Taiwan, Rahm mapped the terrain's different climatic zones and reinforced them through vegetation and constructed devices, thus defining perfect areas for sports, playing, and relaxing. In the context of the 8th Architecture Biennale in Venice in 2002, Rahm created a spatial experience that simulated the liberating feeling of standing on top of mountains.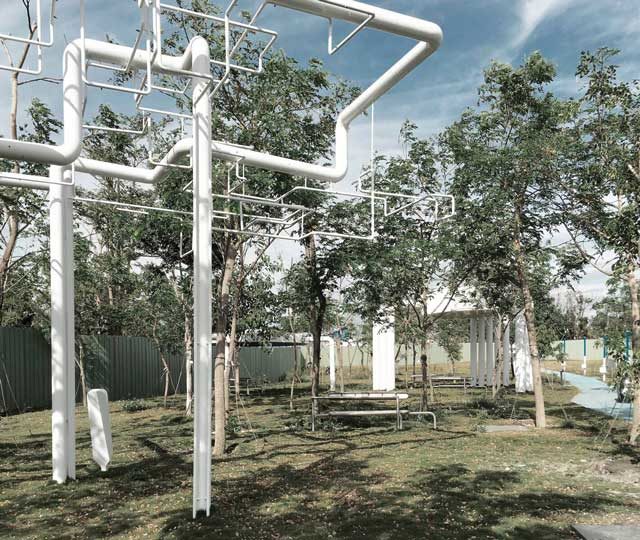 Practicing at the intersection of architecture, arts, and sciences, Rahm has participated in a number of exhibitions worldwide, including the aforementioned Architecture Biennale, Archilab, the SF MoMA, the CCA Kitakyushu, the Centre Pompidou, Manifesta, the Louisiana Museum, and the Solomon R. Guggenheim Museum. He was a resident at the Villa Medici, and has been nominated for international awards such the Ordos Prize and the International Chernikhov Prize in Moscow. He has lectured on his specific approach and profound knowledge in the interaction of architecture and meteorology at Cooper Union, the Harvard School of Design, the Bartlett School of Architecture UCL, UCLA, ETH Zürich, and Princeton.
Philippe Rahm on a Meteorological Architecture
Climate change is forcing us to radically rethink architecture; to shift our focus away from a purely visual and functional approach toward one that is more sensitive and more attentive to the invisible, climate-related aspects of space. Slipping from the solid to the void, from the visible to the invisible, from metric to thermal composition—architecture as meteorology opens additional, more sensual, more variable dimensions in which limits fade away and solids evaporate.The task is no longer to build images and functions, but to open climates and interpretations.
On the large scale, meteorological architecture explores the atmospheric and poetic potential of new construction techniques for ventilation, heating, dual-flow air renewal and insulation. On the microscopic level, it explores novel domains of perception through skin contact, smell, and hormones. Between the infinitely small scale of the physiological realm and infinitely vast scale of the meteorological, architecture must build sensual exchanges between body and space. It must also invent new aesthetic philosophical approaches capable of making long-term changes to the form and the way we will inhabit buildings tomorrow.
Philippe Rahm Describes His Motivation as an Architect,
and His Interest in Forecast.